"Those whom the gods love die young" Literary Saying
"Live fast, die young and leave a good-looking corpse" Famous quote extracted from the movie Knock on Any Door
Forever 27 Club
We are living in such a modern society which allows us to reach an old ripe age easily, however, is there something more beautiful than dying at the kindly age of 27 and therefore become a legend? There is not. Today, 23th of August we are going to talk about the exclusive group: The Forever 27 Club. Do you want an invitation?
There are 44 professional and famous musicians who have perished at the age of 27 to date, amongst them there are important names in the history of music such as Janis Joplin, Kurt Cobain, Brian Jones, Jim Morrison, Amy Winehouse, Jimi Hendrix or Robert Johnson. We will pay homage to them with their best pieces of music. Furthermore, we have the full list of the Forever 27 club, some great live performances, the suicide note of Kurt Cobain, some useful information and a final surprise.
Is it really an anecdote that so many important musicians have died at this age or the Gods love to be with funny people in order to hang out properly?
The full list of the Forever 27 club is as it follows: (some people call it 27 club or Club 27 and even the curse of 27)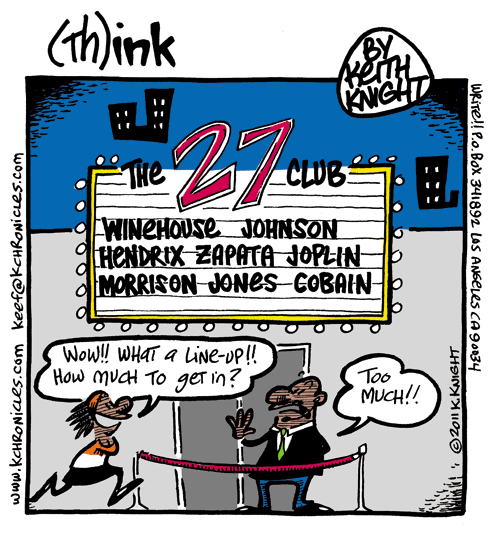 Forever 27 club
Alexandre Levy, composer, pianist and conductor. Unknown cause of death

Louis Chauvin, Ragtime musician, Neurosyphilitic sclerosis

Robert Johnson, Legend of the music. Strychnine poisoning

Nat Jaffe, Swing jazz pianist. Complications from high blood pressure

Jesse Belvin. R&B singer, pianist and songwriter. Car accident.

Rudy Lewis. Vocalist of The Drifters. Drug overdose.

Malcolm Hale. Lead guitarist of Spanky and our Gang. Carbon monoxide poisoning

Dickie Pride. Rock and roll singer. Overdose of sleeping pills

Brian Jones. Guitarist, The Rolling Stone´s founder. Drowned

Alan "Blind Owl" Wilson. Leader of Canned Heat. Barbiture overdose

Jimi Hendrix. Pioneering electric guitarist. Asphyxiation.
Janis Joplin. Lead Vocalist and songwriter. Heroin overdose.

Arlester "Dyke" Christian. Leader of Dyke & the Blazers. Murdered

Jim Morrison. Leader of the Doors and poet. Heart failure (disputed).

Linda Jones. Soul singer. Complications from diabetes

Leslie Harvey. Guitarist for Stone the Crows. Electrocution

Ron "Pigpen" McKernan. Singer of Grateful Dead. Alcoholism (gastrointestinal hemorrhage)

Roger Lee Durham. Singer of Bloodstone. Fell off from a horse

Wallace Yohn. Organ player of Chase. Plane Crash

Dave Alexander. Bassist for the Stooges. Pulmonary edema

Pete Ham. Leader of Badfinger. Suicide by Hanging

Gary Thain. Bassist of Uriah Heep. Heroin overdose.

Cecilia. Singer. Car accident

Helmut Kollen. Bassist for Triumvirat. Carbon monoxide poisoning

Chris Bell. Singer and guitarrist of Big Star. Car accident.

Jacob Miller. Lead singer for Inner. Car accident

D. Boon. Guitarrist and singer of Minutemen. Van accident

Alexander Bashlachev. Poet and rock musician. Suicide (fall from height)

Jean-Michael Basquiat. Formed Gray. Speedball overdose

Pete de Freitas. Drummer for Echo & Bunnymen. Motorcycle accident

Mia Zapata. Lead singer of The Gits. Murdered

Kurt Cobain. Leader of Nirvana. Suicide by gunshot

Kristen Pfaff. Bass guitarrist for Hole. Heroin overdose

Richey Edwards. Lyricist and guitarrist for Manic Street Preachers. Disappeared.

Fat Pat. Rapper of Screwed Up Click. Murdered

Freaky Tah. Rapper of Lost Boyz. Murdered

Rodrigo Bueno. Cuarteto singer. Car accident

Sean Patrick McCabe. Lead singer of Ink & Dagger. Asphyxiation.

Maria Serrano Serrano. Singer for Passion Fruit. Plane Crash

Jeremy Michael Ward. The Mars Volta. Heroin overdose.

Bryan Ottoson. Guitarrist for American Head Charge. Drug overdose.

Valentin Elizalde. Mexican banda singer. Murdered.

Amy Winehouse. Singer.songwriter. Alcohol poisoning

Richard Turner. collaborator with Friendly Fires. Cardiac arrest
The most relevant members of the Forever 27 club are, Amy Winehouse, Brian Jones, Kurt Cobain, Jimi Hendrix, Janis Joplin and Jim Morrison.
Club 27
The only British female musician who has won 5 Grammy Awards in a single night was born in the north of London in a Jewish family. Her father is a cab driver and her mum works as a pharmacist. When she was 14 she got expelled from her school because of bad behaviour and piercing her nose. She has only published three albums (one of them was after her death) but so successful are them that she will be in the history of music forever. Her original image, her unique voice, her beautiful lyrics, her bad behaviour, her scandals, her love stories, her addictions... We miss you, Miss Amy Winehouse. There will never be a musician like you!!!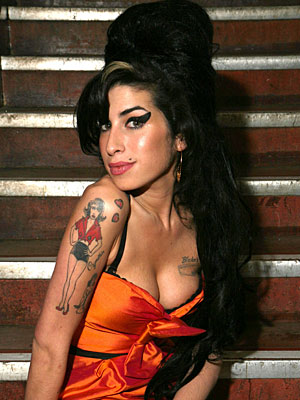 Amy Winehouse Club 27
Amy Winehouse had just kicked out drugs when she died due to an alcohol intoxication, she had drunk 2 big bottles and 1 small bottle of Vodka when her bodyguard found her lying dead. She had a great future beyond her. She was 27 and she died last summer, the 23 of July of 2011. I cannot understand how she survived strong drugs and afterwards she died because of alcohol. So strong was her desire of taking drugs that she drank far too much alcohol. On no account must we be sorry for her because is the most popular artist in the Forever 27 club. In my opinion, the best Amy Winehouse´s video clip is "Tears dry on their own". You can watch it here.
TEARS DRY ON THEIR OWN BY AMY WINEHOUSE
Amy Winehouse is the 26th greatest woman in Music History, she won 23 awards out of 60 nominations. Amongst others awards she won a total number of 6 Grammy Awards, 1 Brit Award, 2 Echo Music Awards, 1 Elle Style Award, 3 Ivor Novello Awards,1 Meteor Music Award,1 Mojo Award, 1 MTV Europe Award, 2 NME Awards...
Amy Winehouse
Her debut album was Frank, and her following album was Back to black which it is one of the best in music history. Her song Rehab it is one of the most important songs ever made. However, as it is too famous I am to put another one which is less known but it is even better, Valerie, which was a clever move from her manager Marc Ronson, it is a song which fits Amy Winehouse best. Her music evokes the great sounds of the old and magic Motown. You can see Valerie right now. Amy Winehouse´s Valerie version is much better than the original played by the band The Zutons.
Amy Winehouse 27 Club
She was a true star, despite her filthy scandals, her music and her personality were incredible. The Forever 27 club is really proud of having her as a guest.
27 club
One of the founders and the first leader of The Rolling Stones, Brian Jones picked the name as he was hearing the Muddy Water´s song Rolling Stone when he was asked about the name of his new group as they were to play their first concert in London the 12th of July of 1962. He was the first leader of the band, he was living in London as he could no move back to his English home town as he was a difficult person with too much problems and scandals attached to him. Little by little, Brian Jones was losing his main role and he was sacked from the band as he was too hooked on drugs. In the harsh times of the band he lived in a humble flat in London alongside Mick Jagger and Keith Richards.
Brian Jones and The Rolling Stones
He was a great musician capable of playing any instrument, he wanted to be the leader and at first he was, he even earned an extra 5 fiver note than the rest of The Rolling Stones. He was a womaniser, he had 3 children with 3 different women before being 20. However, Mick Jagger and Keith Richards were becoming more and more stronger, he could not overcome drugs and he got the sack. Brian Jones was in horrible state and he was no longer required in The Rolling Stones. As a matter of fact, he had lost all his charm and skills because of his many addictions, he was jealous of Mick Jagger and his girlfriend Anita Pallenberg abandoned him and she ended up with Keith Richards.
ANA PALLENBERG AND THE STONES
The song Shine Light was written on Brian's Jones behalf, it is really a great song, nevertheless the Rolling Stones do not usually play it. This song is dedicated to him, it has beautiful lyrics where The Stones talk to God in order to make sure Brian Jones can be well in his new home. Do not panic The Rolling Stones, in the Forever 27 club we look after Brian Jones very well!!!
Few weeks after being expelled from the Rolling Stones, Brian Jones appeared dead in his swimming pool, he was only 27. The death was really strange, the official version was unclear and some decades later a man who was working on his house said he had drowned Jones as he was laughing constantly at him. Some weeks after the death of Brian Jones an historic free concert in his name took place at Hyde Park in London, the documentary named The Stones in the Park was the product of this historical performance. You can watch it here and free.
Brian Jones Forever 27 Club
STONES IN THE PARK (1969)
Brian Jones was the founder of the best rock and roll band in music history and he did not know. Brian Jones was a true rock and roll star, hooked on drugs and alcohol, aggressive, womanizer, a great musician, he was a real Rolling Stone. A venerable member of the Forever 27 club.
KURT COBAIN FOREVER 27 CLUB
One of the best musicians of the Nineties, Kurt Cobain was the leader of the band Nirvana, he had everything, a famous wife (Courtney Love) a child, wealth, he was famous, respected, recognized but as he felt betrayed by the music industry machine and he was too hooked on drugs he committed suicide. He was a drug addict, one of his best songs is Smells like teen spirit. He is the 73th best guitarist ever and the 45th best singer ever in music history. The disc MTV Unplugged in New York is one of his best discs, the performance of Polly as you can see is really powerful. It talks about the imaginary conversation about a real case where a man kidnapped a lovely girl named Polly who had just left from a rock concert. He tortured and raped her and she was going to die but she eventually was able to escape and finally survived.
In 2006 Kurt Cobain became the most profitable dead person in the world as the full Nirvana´s music catalogue was published. Many films have been done reviving the life of Kurt Cobain, one of the most important members of the Forever 27 club. He is considered the last icon of rock and roll and the best epitome of the X Generation and the Grunge movement. His song "Smells like teen spirit" was his best, it is a song which makes laugh at the American way of life. You can watch the video clip here. Teen Spirit was the name of a deodorant which Cobain used to have and the phrase "Smells like teen spirit" was said by a young woman who had just met him. It is the greatest Nirvana´s song.
Kurt Cobain was born in Seattle and was the creator of a new sound and movement, Grunge, he has inspired a lot of musicians. His grumpy style and his alternative songs made Kurt Cobain famous. His band mates have been very successful since the death of Kurt Cobain, Chris Novoselic and Dave Grohl have been doing great stuff as far as rock is concerned. Above all Dave Grohl who is the leader of the great band Foo Fighters.
Kurt Cobain was found dead three days after having committed suicide, he had a suicide note which you can read below and a great wound on his head. Perhaps, he realized he was 27 and he wanted to share heroin with Janis Joplin and Jimi Hendrix. The suicide letter Kurt Cobain wrote is addressed to the world and to his daughter and wife in particular, it is really well written, it starts talking to his imaginary friend Boddah. Kurt Cobain had several problems such as deep depressions, some family members of him had also committed suicide and he was a heavy drug addict. He expresses his feelings and his fatal decision. His most famous quote is
" it's better to burn out, than to fade away"
THE SUICIDAL NOTE OF KURT COBAIN.
To Boddah
,
Speakings from the tongue of an experienced simpleton who obviously would rather be an emasculated, infantile complainee. This note should be pretty easy to understand. All the warnings from the Punk Rock 101 Courses over the years, it's my first introduction to the, shall we say ethics involved with independence and the embracement of your community has been proven to be very true. I haven't felt the excitement of listening to, as well as creating music, along with really writing something for too many years now. I feel guilty beyond words about these things, for example when we're backstage and the lights go out and the manic roar of the crowd begins. It doesn't affect me in the way which it did for Freddie Mercury, whoseemed to love and relish the love and admiration from the crowd, which is something I totally admire and envy.
The fact is, I can't fool you, any of you. It simply isn't fair to you, or to me. The worst crime can think of would be to pull people off by faking it, pretending as if I'm having one 100% fun. Sometimes I feel as though I should have a punch-in time clock before I walk out on-stage. I've tried everything within my power to appreciate it, and I do, God believe me, I do, but it's not enough. I appreciate the fact that I, and we, have affected, and entertained a lot of people. I must be one of the narcisists who only appreciate things when they're alone. I'm too sensitive, I need to be slightly numb in order to regain the enthusiasm.But, what's sad is our child. On our last three tours, I've had a much betterappreciation of all the people I've known personally, and as fans of our music. But I still can't get out the frustration, the guilt, and the sympathy I have for everybody.
There is good in all of us, and I simply love people too much. So much that it makes me feel too fucking sad. The sad little sensitive unappreciative pisces Jesus man! why don't you just enjoy it? I dont know! I have a of a wide who sweats ambition and empathy, and a daughter who reminds me to much of what I use to be. full of love and joy, every person she meets because everyone is good and will do her no harm. And that terrifies me to the point to where I can barely function. I can't stand the thought of Frances becoming the miserable self destructive, deathrocker she become. I have it good, very good, and I'm grateful, but since the age of seven, I've become hateful towards all humans in general. Only because it seems so easy for people to get along and have empathy. Empathy only because I love and feel for people too much I guess. Thank you from the pit of my burning nauseas stomach for your letters and concern during the last years. I'm too much of a neurotic moody person and I don't have the passion anymore, so remember, it's better to burn out, than to fade away. Peace, love, empathy, Kurt Cobain.
Forever 27 club
Frances and Courtney, I'll be at your altar. Please keep going Courtney for Frances for her life which will be so much happier without me. I LOVE YOU. I LOVE YOU!
Kurt Cobain belongs now to the Forever 27 club, another great artist. There were several theories about his death but no many can be taken into account after reading such a suicidal note.
Jimi Hendrix is the best guitarist in the history of rock and roll, he died in London in strange circumstances, he was another great epitome of Rock and roll, live fast and die young, sex, drugs and rock and roll. His ancestors were Indians, white and black, a really great mixture of races.
JIMI HENDRIX AT FOREVER 27 CLUB
When he was 15, he bought a guitar and started to learn the instrument, he would spend weeks and weeks playing and listening to the radio. He got expelled very soon from school and he decided to become a rock star. As a matter of fact, he is the best guitar player ever. In order to avoid jail as he was sentenced to go there he joined the army. He spent one year as a soldier. Jimi Hendrix did play a great performance in Woodstock, his rendition of the American national anthem is incredible, there is still not a better version of that anthem. You can watch it here.
Forever 27 club
His way of playing the electric guitar was extraordinary, it is really very difficult (almost impossible) to do all the tricks and imitate what he would do with just an instrument. His death was really, really strange and it is still unclear, although he loved and indeed did drugs a lot above all psychedelic ones like LSD and amphetamines he did not lose control easily and according to many people the word murder sounds plausible. He left from a party and he was driven to his hotel in Central London, some hours later he appeared dead. However, the original version is that he took too many sleeping pills, he took 9 when the ordinary dose was 1, therefore his body was not able to tolerate them and he died. Another legend started. Another renowned member of FOREVER 27 CLUB
Purple Haze is probably his most remarkable and famous song. One of his best performances can be watched right now.

PURPLE HAZE BY JIMI HENDRIX
Forever 27 club
We spend restless nights hearing his guitar tricks in the Forever 27 club. You cannot believe what he is capable of!!!. Another rock star for our selective club. His bands were The Jimi Hendrix Experience and Jimi Hendrix/Band of Gypsies. Moreover, a lot of work has been published after his dead as he was a prolific artist who had hidden a lot of stuff. He was the precursor of the electric guitar and the concept Electric Church.


One of the best voices in rock history, the magnetism and personality of Janis Joplin were of an incredible nature. She was born in Texas and had a really hard childhood, people would laugh at her owing to her strange way of behave and dress. She moved to San Francisco and started then to sing in different clubs. Many claimed Janis Joplin was the female version of Elvis Presley. Her performances were amazing, people called her Pearl and the Queen of rock and roll and psychedelic soul. You cannot imagine how many laughs we do with her every night!!!. Piece of my heart is one of her immortal songs.
Janis Joplin was found dead in her hotel, she had combined too much heroin with alcohol, the heroin was too strong and she died. She was always consuming any kind of drugs, such as cocaine, heroin, psychedelic drugs, and she was a heavy drinker. The heroin she was given was lethal, much more heavier than the kind she would use. Janis Joplin is one of the most important female artists in music history. She had a strong personality and she was an incredible singer. Another great song which I love and have some great funny lyrics is Mercedes Benz, you can watch it now
JANIS JOPLIN ON THE FOREVER 27 CLUB

Janis Joplin, perhaps the first female icon in Rock and roll, or in other words, the first relevant woman in rock history. Despite all she has lived she still drinks heavier, much more than other musicians in the 27 club, the Forever happy 27 Janis Joplin.
Not only Did Jim Morrison lead one of the most important bands in music history, The Doors, he was also a poet, actor, writer and film maker. His death is one of the great mysteries in music history. He rests in Paris where thousands and thousands of fans should go there every year so that visit his grave and paying homage to this star. The young girl whom Morrison gave all his money died some time later of an heroin overdose Guess What... she died at 27 years old!!!. Jim Morrison was a heavy drinker and heroin user but his death is full of mystery and strange elements.
JIM MORRISON

Police reported officially that he died of a heart attack, the true version is that he died of a heroin overdose but there are a lot of different stories. The fellow members of The Doors said that he had given up heroin many months before his dead, other theories said he had not died at all, others say that he was murderer. What is more, the days he spent in Paris were like a movie..... We do not know the truth, we never will. Jimi Hendrix and Jim Morrison had both strange deaths.


For many people, Jim Morrison is the best front man in rock history. One of his most famous songs is "Light my fire".
"This is the end" is a famous song which appears in the Francis Ford Coppola´s masterpiece Apocalypse Now, I am not putting it as it is too long. Instead I will put my favourite. Break on through to the other side.
Jim Morrison, another legend and another member of the Forever 27 club, he still reads poetry while everybody is resting!!!!
JIM MORRISON Forever 27 Club

Lastly, I want to add this song as it is one of the best ever written and done, it is called Redemption song and is of course one of the most beautiful ever written, it is dedicated to all the people who have died at the age of 27 even though they are not in the 27 club, Forever 27 club, club 27 or whatever you might call it. People who pass away at this age deserve the best because if you really want to be cool, please, do make sure you die when you are 27 years old. Otherwise, you are a boring loser!!!
Rest in peace!!!
Forever 27 club
By the way, so annoyed the members of the Forever 27 club were for not having Bob Marley with them that the king of Reggae has an eternal VIP invitation as well as all the people who are reading this post and love Redemption Song.
The Forever 27 Club, "Live fast, die young and leave a good-looking corpse".
Sincerely. 23 of August of 2012. Have a great day!!!