Since they are famous stars who shine in Hollywood and elsewhere we can deem them as superficial or out of our league. However, Johnny Depp proved the contrary (or at least his character Jack Sparrow)
While shooting the end of the fourth part of the
flick
Pirates
of the
Caribbean
sea in the capital of the United Kingdom his main protagonist received an incredible letter. There was a little girl who plead him for help as she was really worried because she and her fellow pirates were losing a battle against the teachers who make them study very hard. So bad was the situation that the only person able to help them successfully was Jack Sparrow, owing to this fact she wrote a desperately letter.
Johnny Depp
Any famous person would throw the letter away. Nonetheless, Johnny Depp phoned the school and announced that Jack Sparrow and some friends of him were on his way to the school in order to help the little girl and the mutiny.
Ten minutes later, Depp dressed as Sparrow with the letter on his hand and some friends arrived at the school and call on the girl (whose name is Beatrice Delap) so that be able to win the battle and fulfil the mutiny
The situation is really funny and you can see it below
Cuando el rodaje de la 4 parte de Piratas del Caribe llegaba a su fin, Johnny Depp recibió una increíble carta, una niña de un colegio de Londres le rogaba que les ayudara porque estaban perdiendo un motín contra los profesores que les obligaban a estudiar y a trabajar muy duro, el único que les podía ayudar era Jack Sparrow.Cualquier persona famosa hubiera tirado la carta a la basura pero Johnny Depp llamó a la escuela y anunció que iba a llegar enseguida con unos amigos piratas.Depp, vestido de Sparrow se presentó en la escuela y ayudó a la niña cuyo nombre es Beatrice Delap y a sus amigos a completar el motín.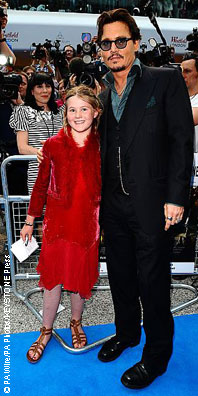 La situación es muy divertida y la puedes ver en el vídeo de arriba.