Ever since it was firstly launched in 1970 Page 3 Girls have become very popular amidst British readers. Indeed, not only does The Sun have one of the largest audience of the entire world with more than 7 million readers every day, Page 3 is widely accepted as an important British Institution which is also linked to humble workers who find solace on it from their daily duties that are nothing but hard. Page 3 girls
Page 3 Girls
alongside one of her photographers Alison Webster
.
Regardless of this beliefs many claim it is old-fashioned and sexist nonetheless. As a matter of fact, a new strong movement has cropped up aimed at banning it forever. As last November was the birthday of Page 3 Girls this group decided to congratulate the bosses at The Sun headquarters dressed in this way.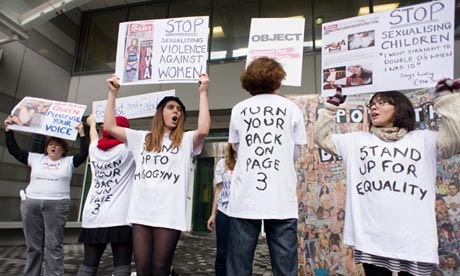 Demonstrators at The Sun´s headquarters
Some rather interesting debates have appeared hitherto. Henceforth, many claim The Sun is to have problems with this adored by many site, therefore it can be in jeopardy due. Likewise, a former chief editor of The Sun (who did not seem very chuffed and did not make powerful arguments either) appeared on the BBC´s programme Newsnight to discuss this issue with the Labour Minister Harriett Harman (by the way she insulted Page 3 girls unnecessarily)
The erstwhile
Page 3
model Peta Todd discusses this matter too on ITV´s This Morning programme with Laura Bates.
They both have strong arguments. Who do you think is the winner? It is not as easy as it seems to pick up a clear winner.
She also rendered this speech in order to defend
Page 3 Girls
. Peta Todd is a widely recognised model in Great Britain. She was a very popular
Page 3 girl
no long ago. Discover her point of view!!
Did Peta Todd´s television appearance and speech convince these girls? Of course not. As a result, a lot of videos have surfaced in order to make people aware of the sexist nature of
Page 3.
Perhaps the problem is not to think whether The Sun is putting these pictures rather to think why The Sun is so popular as if Page 3 were not so enjoyed The Sun´s bosses were the first to remove it from the tabloid. Still, The Sun is not free, it you abhor it you only have to forget it and buy another newspaper instead something in the United Kingdom is easy to do as there are lots of great publications
Shan´t we allow these models to get paid for a job they want to do?
SOME PAGE 3 MODELS
Rhian Sugden, she is from Manchester in the north of England, one of the most popular Page 3 girls,
Born in 1985 this Page 3 model is from Manchester.
Chosen the 4th favourite woman in the United Kingdom. Rosie Jones is one of the main stars of Page 3
Page 3 model Rosie Jones and Singer Katy Perry were a case of mistaken identity because a photo posted on Twitter that many thought was Katy Perry´s picture therefore Rosie Jones tweeted the following
Danni Wells is a Page 3 model from Coventry, England.
Will The Sun give these innocent Page 3 models the sack?
PAGE 3 GIRLS