I just do not know which song will be selected as the best of this current year 2013, a list that I will happily elaborate. However, what I know nonetheless is that Kanye West´s song Black Skinhead will be on top 5 for sure as it is incredibly brilliant, the lyrics, video clip... everything makes Black Skinhead a truly great song. One of the best live performances I have seen of it is the one Kanye West rendered at Saturday Night Live that can be seen now. In fact, his album Yeezus is one of the best of this present year.
Blkkk SkkkN HEAD by Kanye West.
Kanye West Black Skinhead
BLACK SKINHEAD LIVE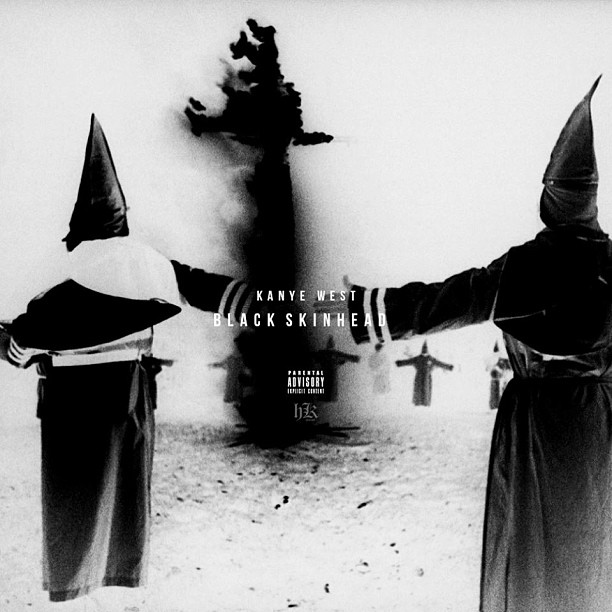 Black Skinhead by Kanye West.
Official Videoclip is also great, it show us a digital version of Kanye West that seems as if he were somewhat like a wild beast. Marvellous. Outstanding indeed. The disc is extraordinary and its title derives from the words Jesus and Kanye´s nickname Ye. Yeezus. We all know that Kanye West has an enormous ego, something he never hides, he presents himself as a God Rapper and compares himself to the best artists in history. Black Skinhead is also an homage to rock music and even punk and it is said to be inspired by Gary Glitter track called Rock and Roll. As he said recently hip-hop is the new Rock and Roll and himself its real Genius.
Black Skinhead Kanye West
BLACKSKINHEAD OFFICIAL VIDEOCLIP
Black Skinhead has been selected as the main song of forthcoming newly Martin Scorsese´s movie called Wolf of Wall Street with Leo DiCaprio as the leading protagonist, the actor is acting incidentally in real life as his characters do in fiction as you can discover right now. The story is based on a true story.
Black Skinhead by Kanye West
Going back to the song of Kanye West and in order to fully understand what the rapper is saying as the words are somehow abstract partially here there is the transcription and the exact lyrics Kanye West has written. At first we know it is a relationship between a white woman and a black guy but there are more things involved. As we know Skinheads tend to be white supremacists, we have on this occasion a Black Skinhead very angry going berserk. He is like an untamed dangerous animal with the Ku Klux Klan around. Watch out the lyrics!!
LYRICS OF BLACK SKINHEAD
From my theme song
My leather black jeans on
My by any means on
Pardon me gettin' my scream on
Enter the kingdom
But watch who you bring home
They see a black man with a white woman
And at the top door they gon come at you King Kong
Middle America packed in
Came to see me in my black skin
My homey was number one draft pick
They slip on his jersey and act rich
If I don't get ran out by Catholics
Here come some conservative Baptists
Sayin he overreactin'
Like them black kids in Chiraq bitch

[Hook: 1]
4in the morning, and I'm zonin'
They say I'm possessed, it's an omen
I keep it 300, like the Romans
300 bitches, where's the trojans?
Picture me livin' in the moment
And I've been a menace for the longest
Picture me livin' in the moment
Picture me livin' in the moment

[Bridge]
So follow me up cause this shit's about to go down
I'm doin' 500, I'm outta control now
But there's nowhere to go, now
And there's no way to slow down
Runnin' out of time - moving fast
So just close your eyes and then enjoy this crash

[Hook: 2]
4 in the mornin', and I'm zonin'
Think I'm possessed, it's an omen
I keep it 300, like the Romans
300 girls, they're the chosen
Baby we livin' in the moment
I've been a menace for the longest
But I ain't finished, I'm devoted
And you know it, and you know it

[Verse 2]
Stop all that goon shit
Early morning cartoon shit
This is goon shit
Fuck up your whole afternoon shit
I'm aware I'm a wolf
Soon as the moon hit
I'm aware I'm a king
Back out the tomb bitch
Back out the room bitch
Stop all that goon shit
These niggas ain't doin' shit
These niggas ain't doin' shit
What do you say to a masked man
This Inglorious Bastard that's rappin'
We might have to burn this whole suit down,
Like the theater that Hitler was trapped in

4 in the mornin', and I'm zonin'
Think I'm possessed, it's an omen
300 girls, and we're throwin'
300 girls, and they're zonin'
Baby we're livin' in the moment
Baby we're livin' in the moment
Keep it goin', keep it goin'
On the other hand, we have to talk a little bit of the recent news related to Kanye West. Not long ago, Kanye West appeared on BBC Radio 1 giving a deep interview that subsequently was mocked partially by the American television presenter Jimmy Kimmel at his late night, something that made Kanye West got so angry (perhaps he was not acting during Black skinhead song) that he threatened and insulted the Television Host on Twitter. You can see everything related to this episode in the following Link. I recommend to see the Tweets of Kanye West...
Notwithstanding, everything is now water under the bridge, as a matter of fact, Kanye West has visited Jimmy Kimmel a few weeks ago where he was interviewed with regards to this incident.
KANYE WEST VISITS THE LATE NIGHT SHOW OF JIMMY KIMMEL
Do you like Black Skinhead? Is it one of the best songs of the current year as Halcombe Norilsk believes? What do you think of the recent news of Kanye West and his appearance and feud with Jimmy Kimel?
Do share, rate and comment.