Honestamente no sé cual será la mejor canción de este año 2013 ni como resultará la lista que confeccionaré con los mejores sencillos y álbumes del presente ejercicio musical 2013 pero lo que puedo adelantar es que Black Skinhead (un skinhead negro) del artista americano Kanye West estará entre las 5 primeras. Llevo tiempo escuchándola y es tal la brillantez de su actuación en el programa Saturday Night Live por ejemplo que no tengo más remedio que destacarla ahora y colocarla entre las 5 mejores del año de momento. Lo puedes comprobar a continuación. De hecho, su disco Yeezus es de lo mejor que ha salido. publicado en 2013.
Genial ¿Verdad?
Black Skinhead ha sido elegida como la canción principal de la próxima película de Martin Scorsese que se estrenará próximamente y que va a ser una de las máximas favoritas para alzarse con los galardones cinematográficos más relevantes, se llama Lobo de Wall Street (Wolf of Wall Street) y cuenta con Leonardo DiCaprio como el principal protagonista que está actuando en la vida real como lo hacen sus personajes en la ficción tal y como pueden leer a continuación.
Black Skinhead es la melodía principal de Wolf of Wall Street.
Volviendo al tema principal, el videoclip oficial de la canción Black Skinhead también es muy bueno, podemos ver a un Kanye West digitalizado como si fuera un animal, una bestia sin domar que escupe versos por la boca como si estuviera luchando contra su cruel e injusto destino. El título del disco (Yeezus) hace referencía a su nombre Kanye West (Ye es como algunos le llaman) y al de Jesucristo. (Jesus). Ni que decir tiene que Kanye West tiene un ego monumental que no esconde y pretende presentarse como el Mesías. Pueden ver a continuación el videoclip oficial. Kanye West sostiene que el Hip-Hop es el nuevo rock and roll y él su mayor genio.

Video oficial de Black Skinhead (Blkkk SkkkN Head) by Kanye West
La letra de la canción es bastante abstracta, hace diferentes referencias a diversos temas pero hay algo más que se puede indicar. Aparte de que es como una revisión de la canción Rock and Roll del artista Gary Glitter y su particular homenaje al punk y rock, la letra es original, habla de un hombre negro saliendo con una mujer blanca pero los skinhead representan a personas blancas supremacionistas que consideran a su raza por encima de las demás, Kanye West le da la vuelta a esta concepción y se autodenomina un Skinhead negro, la canción suelta rabia, garra, enfado.. es un manifiesto, aparecen miembros del Ku Klux Klan. Kanye West es capaz de combinar diferentes estilos musicales dentro de un mismo disco y su última obra Yeezus es buena prueba de ello. Para que puedas descubrir todo lo que suelta Kanye West por la boca puedes leer la letra de Black Skinhead a continuación.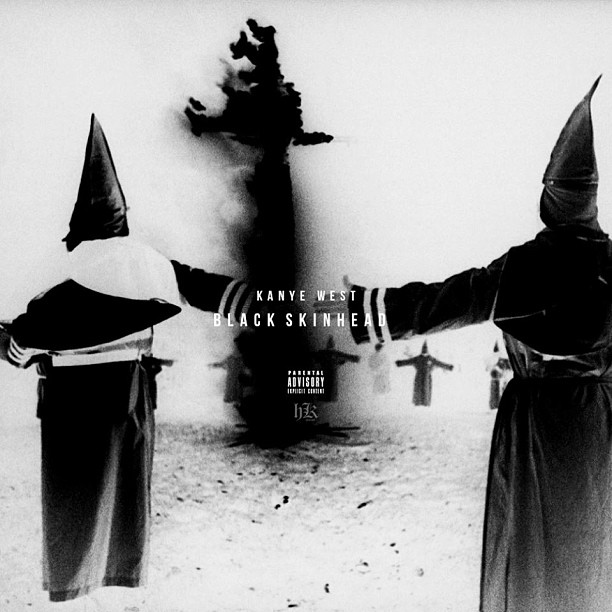 Blkkk SkkkN Head. Kanye West.


BLACK SKINHEAD KANYE WEST
From my theme song
My leather black jeans on
My by any means on
Pardon me gettin' my scream on
Enter the kingdom
But watch who you bring home
They see a black man with a white woman
And at the top door they gon come at you King Kong
Middle America packed in
Came to see me in my black skin
My homey was number one draft pick
They slip on his jersey and act rich
If I don't get ran out by Catholics
Here come some conservative Baptists
Sayin he overreactin'
Like them black kids in Chiraq bitch

[Hook: 1]
4in the morning, and I'm zonin'
They say I'm possessed, it's an omen
I keep it 300, like the Romans
300 bitches, where's the trojans?
Picture me livin' in the moment
And I've been a menace for the longest
Picture me livin' in the moment
Picture me livin' in the moment

[Bridge]
So follow me up cause this shit's about to go down
I'm doin' 500, I'm outta control now
But there's nowhere to go, now
And there's no way to slow down
Runnin' out of time - moving fast
So just close your eyes and then enjoy this crash

[Hook: 2]
4 in the mornin', and I'm zonin'
Think I'm possessed, it's an omen
I keep it 300, like the Romans
300 girls, they're the chosen
Baby we livin' in the moment
I've been a menace for the longest
But I ain't finished, I'm devoted
And you know it, and you know it

[Verse 2]
Stop all that goon shit
Early morning cartoon shit
This is goon shit
Fuck up your whole afternoon shit
I'm aware I'm a wolf
Soon as the moon hit
I'm aware I'm a king
Back out the tomb bitch
Back out the room bitch
Stop all that goon shit
These niggas ain't doin' shit
These niggas ain't doin' shit
What do you say to a masked man
This Inglorious Bastard that's rappin'
We might have to burn this whole suit down,
Like the theater that Hitler was trapped in

[Hook: 3]
4 in the mornin', and I'm zonin'
Think I'm possessed, it's an omen
300 girls, and we're throwin'
300 girls, and they're zonin'
Baby we're livin' in the moment
Baby we're livin' in the moment
Keep it goin', keep it goin'
Fuera del plano artístico Kanye West está siendo protagonista de diferentes escándalos. Hace no mucho realizó una entrevista profunda y seria en un canal musical de radio de la BBC británica (BBC Radio One) que el propio Kanye West denominó como la mejor que había dado en mucho tiempo pero fue satirizada en el programa americano humorístico de Jimmy Kimmel, algo que no le gustó nada al artista americano que estalló y en Twitter insultó y amenazó gravemente a Jimmy Kimmel.
Al final los 2 han firmado la paz e incluso Kanye West ha acudido al programa de Jimmy Kimmel donde ha hablado de todo lo acontecido. Es muy interesante y lo puedes ver aquí. Kanye West es único para lo bueno como para lo malo.
Centrándonos en el plano artístico
Kanye West
es un artista descomunal, todos sus discos son interesantes y tiene algunas canciones sublimes,
Black Skinhead
es una de ellas pero ¿Es la mejor de 2013? ¿Qué te sugiere la misma? ¿La polémica de Kanye West con Jimmy Kimmel tiene sentido?
.