JUSTIN BIEBER´S HELLISH UK TOUR AND MORE BAD NEWS
On the one hand, sales of the music of Justin Bieber has been increasing pretty well. On the other hand, we are only hearing bad news regarding his persona. Most recently, he has had a rowdy dialectic fight with some photographers in Central London as you can see right now
JUSTIN BIEBER TWEETS ABOUT THESE INCIDENTS
"Ahhhhh! Rough morning. Trying to feel better for this show tonight but let the paps get the best of me … Sometimes when people r shoving cameras in your face all day and yelling the worst thing possible at u ... well I'm human. Rough week …"
"Not gonna let them get the best of me again. Gonna get focused on this show tonight. Adrenaline is high now. Gonna put it on the stage … Only way someone can break u is if u let them."
Still, he was two-hour late at the beginning of his first concert in London and he collapsed in other one while performing his hit "Beauty and the beat" as you can see and watch right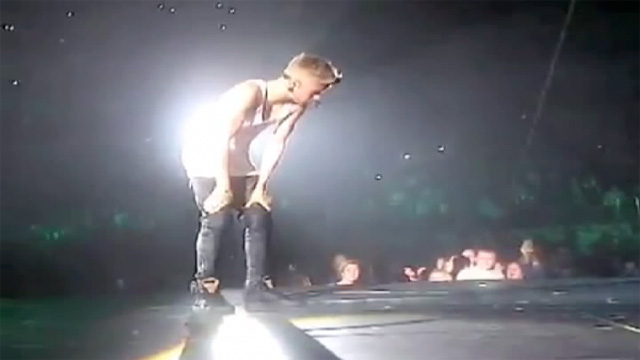 Justin Bieber used Twitter to show the world a picture of himself from the hospital where he had been treated because of this problem and tweeted "

thanks for everyone pulling me thru tonight. best fans in the world. figuring out what happened. thanks for the love"
Justin Bieber poses shirtless from Hospital
Apart from these events in UK where it was a delay, a fight and a visit to the Hospital, he acted so childish that staff from the Hotel where he stayed in London told journalists the following:
"Justin's demands were outrageous. He huffed when he couldn't stay in The Langham's £5,000-a-night Infinity Suite because it was booked.
He also sent back two white Rolls-Royces that had been put on to ferry him around because they were the 'wrong' shade of white. He demanded Maybach motors instead"
(Most recently, at least Justin Bieber has been able to tweet a picture of himself with Selena Gomez whom is with him again)
Justin Bieber and Selena Gomez are back together
MORE BAD NEWS ABOUT JUSTIN BIEBER
Prior to this hellish UK Tour, Justin Bieber was ignored by Grammy Awards, teen icon is also banned from entering the Philippines unless he apologizes for posting a photo on the Internet mocking local hero Pacquio on his boxing defeat, linking it to The Lion King as you can see now
What is more, an angry dangerous fan plotted and hired some guys so that castrate and kill Justin Bieber rewarding them 2500 dollars if his testicles were cut...
Focusing on this last week in UK, many claim he is losing his charm and seeing how he reacted at some photographers and his rude answer to his lateness we can realise he is far from being a superstar but, after all, he is only 19. The problem is that while he is getting older his fans are getting younger therefore he will have to somehow change his career or improve his skills in order to not end up like many young stars that are only a reminiscent of the past something we hope Justin Bieber does not suffer as according to Victoria´s Secret models "He is so cute"
Hope you can have a good week but
if your are from Portugal take care as Justin Bieber is to perform there next week...