EL VIAJE DE METALLICA THROUGH THE NEVER

Poco podía imaginar el líder de Metallica, James Hetfield, en lo que iba a derivar el día en el que respondió a un anuncio que en un periódico local de Los Ángeles (The Recycler, (como curiosidad otros grupos como Motley Crüe o Guns and Roses también publicaron en el citado periódico anuncios a la caza de algún músico)) publicó el ahora batería de Metallica Lars Ulrich buscando gente para formar una banda de rock, nacido en Dinamarca e hijo de un tenista, Lars Ulrich perseguía en Estados Unidos una carrera profesional en el tenis para terminar fundando con James Hetfield, Metallica.

Mucho menos cuando en 1986 la banda sufrió un accidente de autobús en Suecia en el que murió el bajista Cliff Burton, (Cliff Burton ganó a las cartas al guitarrista Kirk Hammett la posición a ocupar en la litera del autobús que fue también la razón de su muerte) o incluso cuando a principios de 2001 el sustituto del fallecido Burton, Jason Newsted, abandonó Metallica porque no le dejaron tomarse un tiempo de descanso para emprender otros proyectos artísticos lo que derivó en ruptura momentánea del grupo de Los Ángeles que aprovechó James Hetfield a su vez para entrar en un centro de desintoxicación. El increíble viaje de Metallica tiene otra parada, el año 2013 con Metallica 3D Through the never.

Kirk Hammett Metallica

Metallica siempre había querido probar suerte en el mundo del cine, pero en los años 90 los componentes lo desecharon debido a la todavía complicada tecnología y a su falta de experiencia en el séptimo arte, después de publicar un documental que podía servir como presentación a los desconocedores de los entresijos del grupo, Some Kind of Monster, nos entregan ahora una proyecto especial, Metallica 3D Through the never.
La inspiración proviene del best-seller El Alquimista del escritor brasileño Paulho Coelho, Metallica preparó una serie de conciertos especiales con unas características apabullantes, se construyó una estatua gigantesca representante de la justicia de 10 metros de altura, un foso especial, ataúdes de 2 toneladas, un escenario de 70 metros de largo... El concierto que se puede ver en Through the Never se grabó en Canadá (Vancouver y Edmonton) durante 5 días diferentes. Las luces o láseres responden a una tecnología puntera. La película está grabada en 3D y la calidad de la misma es sobresaliente (la misma que utiliza y les ha cedido James Cameron).
Directo Metallica Through the Never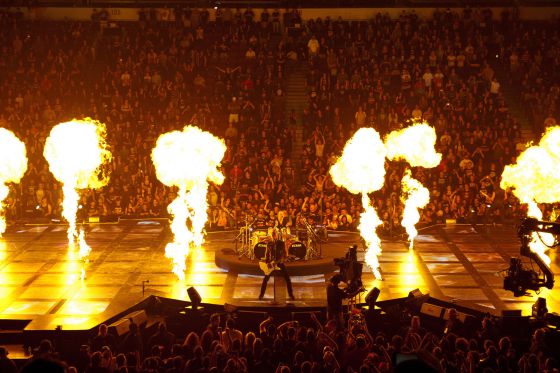 Escenario de Metallica Through the Never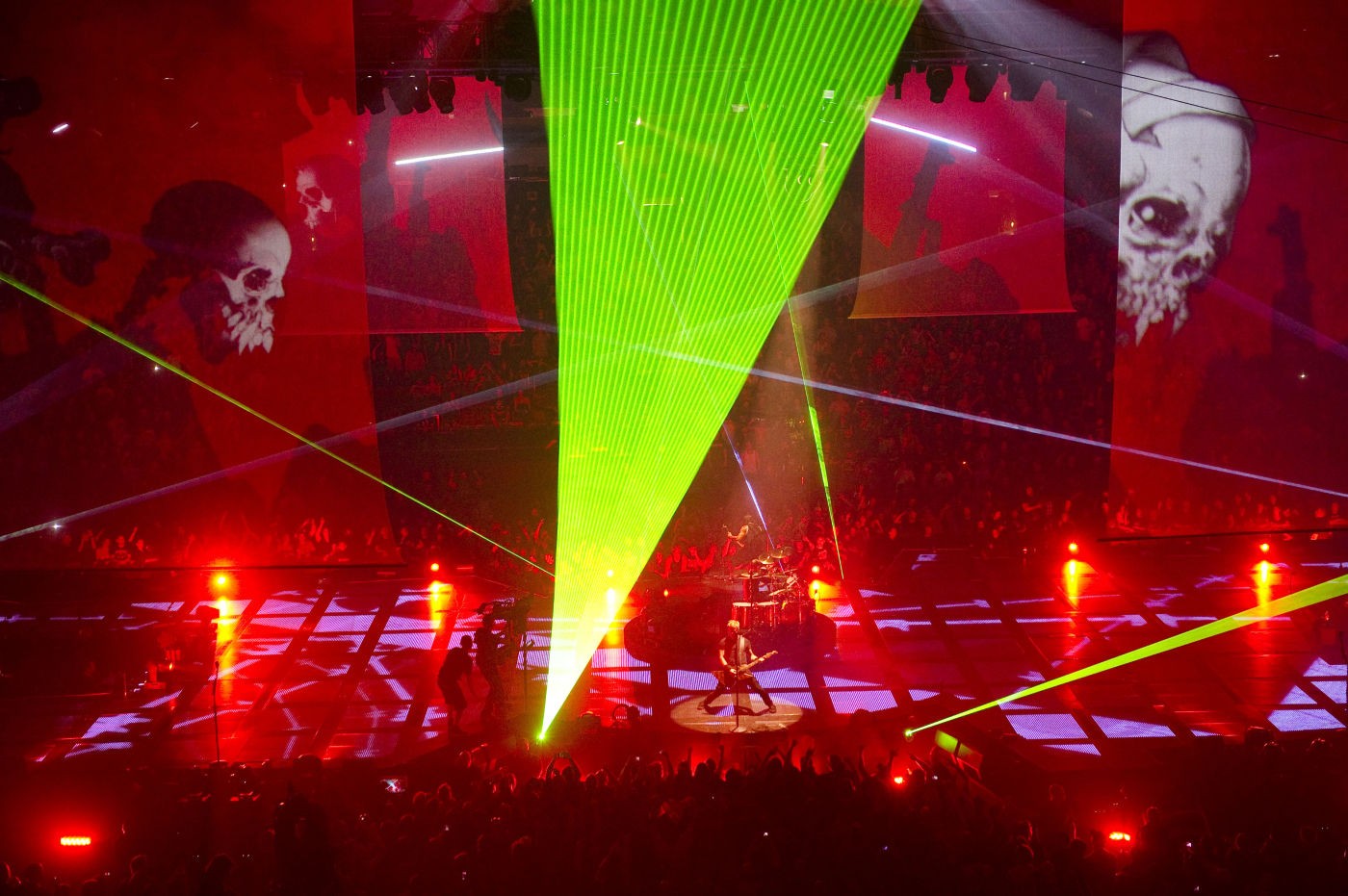 Metallica en directo Through the never.
La línea argumental de Through the Never es secundaria pero es interesante recordarla, un chaval que trabaja para Metallica (su nombre lo dice todo Trip) tiene que entregar un paquete a un camionero con minusvalía, lo que aparentemente es un encargo más se convierte en una especie de pesadilla y el chico (el actor Dane Dehaan) se ve envuelto en un viaje alucinante en el que luchará por su propia supervivencia con monstruos, zombies... todo acompañado de la música de Metallica que impregna la película de principio a fin.
Trip en Metallica 3D Through The Never
Las canciones de Metallica incluidas en Through the never son:
BANDA SONORA ELEGIDA POR METALLICA PARA THROUGH THE NEVER
The Ecstasy of Gold

Creeping Death

For Whom the bell Tolls

Fuel

Ride the Lightning

One

The Memory Remains

Wherever I May Roam

Cyanide

...And Justice for All

Master of Puppets

Battery

Nothing else matters

Enter Sandman

Hit the lights

Orion
TRÁILER DE METALLICA 3D THROUGH THE NEVER
Cártel de Metallica 3D Through The Never

El guionista y director de Through The Never es el cineasta Nimród Natal responsable de otros proyectos fantásticos como las películas Predators o Kontroll. Through the never ha recibido críticas especialmente positivas, publicaciones muy relevantes como Rolling Stone o The Guardian la han alabado y entre los pocos que la han criticado se encuentra The Daily Telegraph.
Los más críticos apuntan que Metallica confirma su posición comercial aprovechando su dominio del rock duro a cuanto a fama se refiere pero también demuestran que siguen estando en lo más alto y que son capaces de sorprender y deslumbrar en un proyecto original y especial.
Metallica demuestra con Through the never que el viaje de Trip es increíble como lo son sus conciertos y por cierto también su brillante historia.
Comparte, comenta y puntúa si te ha gustado